BOOKS AND REFERENCES
This page contains listings of various books, pamphlets, and other publications and reference materials on telephone related topics. This is not an endorsement of any items shown here; rather it is a list compiled to aid visitors to this web site in locating further information on the subject of telephony.
At the end of this page is a listing of books for further reading from the Sound Print web site. Some may be available in your local library while other may be out of print and hard to find. To jump to this list, click HERE.

Historical publications no longer published and not shown here can be downloaded directly from my web site on my Historical Page.
I have also scanned some old Bell System books, magazines, catalogues, technical journals, etc. not shown here. These scans were made into PDF files and are on a CD called the "Telephone Documents CD" which I have made available for sale for non-commercial use. For information about the Telephone Documents CD and others, see the Telephone CD Ordering Page.
---
For AT&T and Bell System historical information, photos and video tapes, contact the AT&T archives historian, Sheldon Hochheiser at hochheiser@att.com or Barbara Sweeney at basweene@lga.att.com or you can call her at (908) 226-2390 or call the main archives number (908) 226-2386. There is some free information available from AT&T but video tapes, photos, etc. will have to be purchased from AT&T. Many local phone companies offer educational material on the historical and technical aspects of the telephone.
---
Here is a newly released book as of November 2001 that I have a copy of called "Just An Old Telephone Man" by Rufus "Judge" Pattengill..

Click HERE to view his web page describing the book and for ordering information. Later on I'll have a book review available once I've had time to read the book completely.
---
Here are three of several telephone books I personally own. I highly recommend these to collectors and historians. These make great reference material when discussing various telephone models with other collectors (who have these books) since you can refer to any of the hundreds of photos and descriptions contained in these great books.
The following books and others can be purchased from Mike Sandman...Chicago's Telecom Expert (http://www.sandman.com). Not shown below which I also have and is also available from Mike Sandman is the Pay Phone History Scrapbook. It is a must for the pay phone collector!
---
Another supplier of numerous books on telephony is Phoneco.
Here is one example of 18 books they sell:
OLD TIME TELEPHONES!
By Ralph O. Meyer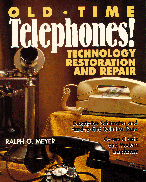 Old-Time Telephones traces the development of the telephone from Alexander
Graham Bell to 1984, when the Bell System was broken up. Fundamental
engineering principles, design concepts, and historical facts are interwoven
in the fascinating and down-to-earth context of antique telephones.
304 pages, 239 illustrations, 7x10 inches
Click on the front cover image above for prices and how to order.
---
The following three books are available from Ron Christianson's web site at http://www.museumphones.com/books.html. Please go to his site for details.
Antique Telephone Identification and Price Guide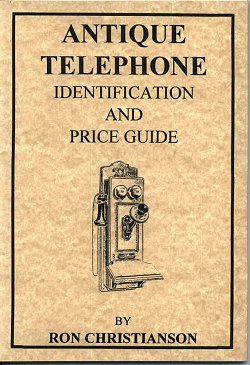 How To Find Antique Telephones



The Telephone Patent Book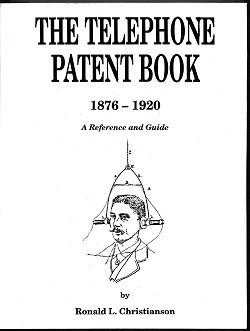 A limited number of the above three books were printed - please check the Cyber Telephone Museum web site for the latest information on availability, descriptions, prices, and ordering information.
---
Communications Handbooks for the Telephone Industry

Communications systems. This collection of GTE Communications Systems
handbooks provides valuable information to the communications industry.
They include detailed practices printed and bound in book form, making them a
highly efficient and convenient aid. Illustrations, photographs, schematics,
diagrams and parts lists clearly present the technical information to all levels from
entry level personnel through management.
This series consists of books on Station Installation, Station Equipment Repair,
Coin Telephone, Key Telephone System, and Basic Telephony Course.
This collection is also available through Phoneco.
---
The Switcher's Quarterly
Published by Mike Magnus
Ordering information: http://www.telephonecollectors.org/switcher/switcher.htm
Here is a sample page: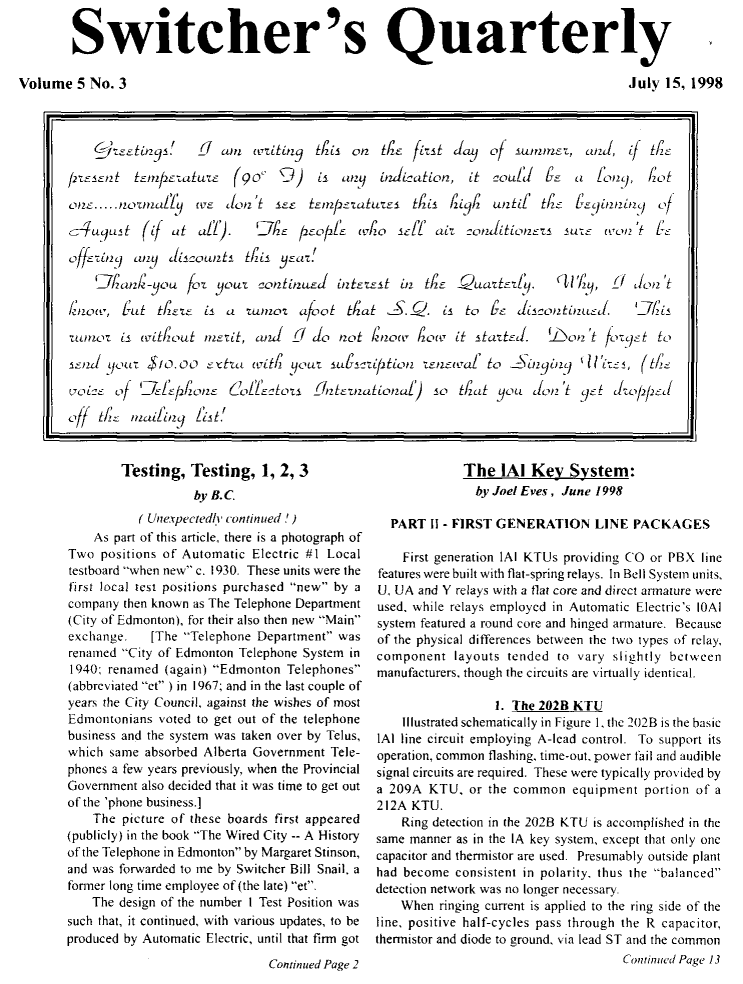 ---
Telephone operators will want to check out a publication called "Voice on the Wire" (VOTW). Because this Books and References page was created long after I created the page for VOTW, and because I don't want to cause any broken links from other sites that point to the original VOTW page, I chose not to include redundant information on VOTW here.
---
BOOKS ABOUT TELEPHONE HISTORY: (as found in this web page: http://soundprint.org/documentaries/more_info/telephone_readlist.phtml
Technologies of Freedom
Ithiel de Sola Pool, 1983
Cambridge: Belknap/Harvard

The Deal of the Century: The Breakup of AT&T
Steve Coll, 1986
New York: Atheneum

Signals: The Telephone and Beyond (Revised edition)
John R. Pierce and Michael A. Noll
San Francisco: Freeman

America Calling: A Social History of the Telephone to 1940
Claude S. Fischer, 1992
Berkeley: University of California Press

The Telecommunications Revolution: Past, Present and Future
Sapolsky, Crane, Neuman, and Noam, 1992
London & New York: Routledge

The American Telegrapher: A Social History, 1860 - 1900
Edwin Gabler, 1988
New Brunswick: Rutgers University Press

Telephone: The First Hundred Years
John Brooks, 1975
New York: Harper & Row

The Biggest Company On Earth: A Profile of AT&T
Sonny Kleinfield, 1981
New York: Holt, Rinehart and Winston

I'm Sorry, The Monopoly You Have Reached Is Not In Service. . .
K. Aubrey Stone, 1973
New York: Ballantine/Grassroots

Monopoly
Joseph C. Goulden, 1968
New York: Putnam

In One Man's Life: Being Chapters from the Personal and Business Career of Theodore N. Vail
Albert B. Paine, 1921
New York: Harper

Disconnecting Bell: The Impact of the AT&T Divestiture
Harry M. Shooshan II (Editor), 1984
Elmsford, NY: Pergamon Press

The Hacker Crackdown: Law and Disorder on the Electronic Frontier
Bruce Sterling, 1992
New York: Bantam

The First Amendment in the Information Age
Joel M. Bolstein, 1987
Washington, D.C.: Freedom of Expression Foundation & The Media Institute

The Virtual Community: Homesteading on the Electronic Frontier
Howard Rheingold, 1993
Menlo Park, CA: Addison Wesley

The Intelligent Network Task Force Report
Barbara O'Connor, et al., 1988
San Francisco: Pacific Bell Consumer Affairs


TECHNICAL BOOKS

Telecommunications Primer
G. Langley, 1983
London: Pitman

Understanding Communications Systems
Don L. Cannon and Gerald Luecke
Dallas: Texas Instruments

---